OkMEA Election Information
OkMEA elections will open on September 21. You will receive a Constant Contact email with an individualized voting link. This system ensures that only active and retired members vote and that they only vote one time. Reminders will be sent via Constant Contact and Facebook throughout the voting process. Voting will close on October 18.
To view the candidates biographical information, click the plus button next to their name below. You can also view an OkMEA Mission Statement from the President Elect candidates.
President Elect - Annie Mann
Annie Mann is in her 15th year as orchestra director at Bethany Public Schools. She teaches students in 4th through 12th grade in beginning, elementary orchestra, middle and high school orchestra. During her tenure at Bethany, the orchestra program has grown to over 200 students, and has added a part time assistant. Both the middle and high school orchestras have served as demo groups on 3 occasions for the OkMEA state convention. The high school orchestra was selected as an OkMEA Honor Group as well. The program has performed at the OSSBA state convention and often plays for various community events in the Bethany area.
In addition to her orchestra duties, Mann also directs the district wide musical every year. The musical pulls together students from elementary through high school. Under her direction (and fabulous musical staff), the 2019 musical, The Music Man, received nominations for best actor/actress and best ensemble at the Kelli O'Hara Awards. The 2020 musical, Footloose, was invited to perform at the Footloose Festival in Elmore City.
Mann graduated in 2004 and again in 2005 with a double bachelor's in vocal performance and instrumental music education from Oklahoma City University. In 2012, she completed her masters in music education from the University of Oklahoma. She was the 2014 District Teacher of the Year and the 2015 Chick Fil A teacher of year. She has previously served OkMEA as a committee member, COkMEA presenter, and on the board as All-State Orchestra Chair and Orchestra Vice President.
While maintaining a private studio, Mann had multiple all state choir and orchestra members as well as state and regional National Association of Teachers Singing winners.
In her leisure time, she loves attending musicals, being mom to her awesome and funny 4th grader, Ellie, and wife to her incredibly supportive husband Trevor.
OkMEA Mission Statement
I believe the mission of OKMEA can be defined by the 5 Cs:
Champion – Be an advocate for the importance of a high quality music education for all.
Challenge -Through professional development, challenge teachers to be the best in their field.
Cultivate – Cultivate the love of music through meaningful experiences for students
Creativity – Develop teaching resources and teachers that are creative for the 21st century
Community – Grow the music education community through mentorship and support.
Elementary VP - Dr. Lani Garner
Dr. Lani Aloha Garner is a professor of music education at the University of Central Oklahoma. She received her Ph.D. at the University of Oklahoma in 2017. Her passion for teaching younger students extends through her work as a facilitator of Future Awesome Music Educators (F.A.M.E.) and as Director of Teacher Support at El Sistema Oklahoma. She is currently developing the OKC Prism Project, a summer music and arts program geared towards students with exceptionalities. Prior to this, she worked at OCU as professor of music education and enjoyed seeing her students develop professionally in CNAfME. While completing her graduate degrees, she worked with the K20 Center for Education and Community Renewal, providing coaching, mentoring and coordinating technical assistance and training across the state for grant schools and their partners. Garner also spent over 18 years teaching elementary music in the Norman Public School district and continues to volunteer with these schools.
As co-founder of the first elementary world-music ensemble in the state, Manyawi!, and founder of a second group, Zambuko, she shares her experiences with undergraduates interested in including "outside the box" lessons to energize traditional elementary music instruction. She was chosen by the Rotary International Group Study Exchange Program in May 2001 to work with local musicians and educators in Norway. Additionally, through the Fund for Teachers grant, she and two colleagues spent two weeks in the village of Mhondoro, Zimbabwe in 2006, where she was immersed in the culture and music of the Shona people. During the summer of 2014, Garner spent two weeks at the Shanghai Conservatory of Music learning about traditional Chinese music and culture. She also presented at the International Society for Music Education (ISME) World Conference in Scotland in summer 2016.
Garner enjoys facilitating workshops locally and nationally, most recently presenting at the Arkansas Music Educators Fall Conference. She looks forward to presenting at both OkMEA and NMMEA in January of 2021. She loves volunteering as a music education consultant to area schools and universities, especially in the area of world music. All of her travels have contributed to her love for teaching children global connections, and she hopes to influence aspiring educators to develop authentic world music communities and creative classroom experiences.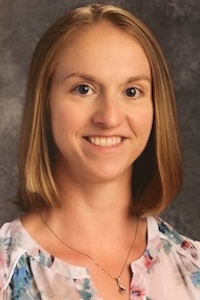 Band VP - Jenn Kauffman
Jenn Kauffman has been the head director at Blanchard since 2006. She previously taught in Maysville for 3 years. She graduated high school in 1997 from Hillsboro High School in Hillsboro, Oregon. She then attended the University of Oklahoma where she earned her Bachelors of Music Education in 2003.
Kauffman has been the president of the South Central Oklahoma Band Directors Association, the Southwestern Oklahoma Band Directors Association, and twice presided over the Oklahoma Small School Band Directors Association. She was the treasurer for the Oklahoma Bandmasters Association from 2010-2015 and served as president in 2016-2017. She is currently the President of the band division of the Oklahoma Music Adjudicators Association, the secretary/treasurer of the Southwestern Oklahoma Band Directors Association, and the chair of the OkMEA All-State Band Committee. Kauffman also enjoys working regularly as an adjudicator and clinician with bands of all levels across the state.
When she's not at the band room she enjoys spending time with her husband, Trey, and their cats, Tsuzie, Sam, and Sunny. Kauffman loves to workout and does so as many times a weeks as possible She has a passion for traveling as well as languages and visits foreign countries whenever she can. She also enjoys doing anything to prove she's not old yet, like running longer than her students, challenging them to scale offs, and winning!
President Elect - Shawn O'Kelley
Shawn O'Kelley's teaching career began in Greenbrier, Arkansas, in 2001. Since 2004, he has been teaching in Owasso, Oklahoma. At Owasso, he has taught beginning flute, clarinet, and saxophone classes; eighth grade band, Owasso High School Symphonic Band I, Symphonic Band II, Owasso Saxophone Ensemble, and the Pride of Owasso marching band. In 2007, O'Kelley was the recipient of the Phi Beta Mu Young Bandmaster Award for Oklahoma, and conducted the Owasso Eighth Grade Symphonic Band at the Oklahoma Music Educators Association annual convention. In 2018, he was awarded an Exemplary Teacher Award from OkMEA. Under his direction, Owasso Saxophone Ensemble members have performed at North American Saxophone Alliance biennial conventions in 2016, 2018, and 2020, and regional conventions in 2017 and 2019. O'Kelley also enjoys teaching an active schedule of private saxophone lessons, and his students frequently earn positions in NCDA all-region and OkMEA all-state bands.  is professional affiliations include Oklahoma Music Educators Association, where he has served as All-State Chair, Phi Beta Mu, North American Saxophone Alliance, and faculty membership at the Great Plains Saxophone Workshop. O'Kelley is a 2001 graduate of the University of Arkansas and a native of Farmington, Arkansas.
OkMEA Mission Statement
The vision of Oklahoma Music Educators Association moving forward should focus on three important priorities. First, we must cultivate a culturally responsive curriculum that fosters a celebration of diverse culture encompassing the fine arts. Second, we must strongly advocate the essential role of music education with legislative leaders at local and state levels. Third, we must utilize our greatest resource, our educators, by offering curriculum strategies and human resources in the coming years as our schools emerge from the pandemic.
Elementary VP - Katie Wonderly
Katie Wonderly is a fifth-year elementary music teacher, making music with 650 of her favorite young musicians at Tulakes Elementary in Putnam City Schools. She graduated with a Bachelor of Music Education from Oklahoma City University in 2015 and has completed two summers of master's coursework in Kodály pedagogy at the University of Oklahoma. Wonderly is a member of the Organization of American Kodály Educators, National Association for Music Education, and the National Education Association. She was recently named the 2020 Putnam City District Teacher of the Year. 
Wonderly utilizes social media to connect with educators and community members around the world under the username, Ms. Wonderly Makes Music. She is known for innovatively sharing her journey as a young music educator, featuring favorite resources, classroom decor, lesson ideas, tech tips, and more. Wonderly believes every classroom should be a place where creativity, community, and diversity are embraced and encouraged. She is passionate about teaching music by all people to all people, ensuring that every student leaves her room knowing their voice matters, and that they are an essential part of the ensemble.
Band VP - Kevin Speakman
Kevin Speakman is a native of Ponca City, and a graduate of the University of Arkansas earning his BSE in 1993. Currently he is the Director of Bands at Pryor High School. He began his career as the only director in Seneca, Missouri. From there he has taught middle school bands in Shawnee, Stillwater, Sapulpa, Plano, TX, and Skiatook before coming to Pryor in 2013. While working in Skiatook, he was selected as the Middle School Teacher of the Year for 2008. Speakman served as the OkMEA All-State Band Committee Chair for 2001-2002, served as the executive secretary for the North Central Band Directors Association, served as President of the Northeastern Band Directors Association, and has been on the faculty of the University of Arkansas Summer Music Camp for twenty-six years. Speakman also served as the Beta chapter president of the Phi Beta Mu International Bandmasters Fraternity. 
Bands under his direction consistently earn superior ratings in concert and sight-reading contests. Speakman also enjoys serving as an adjudicator and clinician.