OkMEA Election Information
OkMEA elections will open on September 5th. You will receive an email with an individualized voting link from Election Buddy. Be sure to check your junk/spam folders. This system ensures that only active, life, introductory, and retired members vote and that they only vote one time. Reminders will be sent throughout the elections process. Elections will close on October 1 at 11:59pm.
To view the candidates biographical information, click the plus button next to their name below.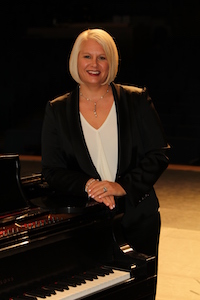 Choral VP - Marjorie Green
Marjorie Green is the Vocal Music Director at Bartlesville High School. She also serves as the supervisor of the Bartlesville Vocal Music Department (grades 6-12). Green has been in vocal music education for 23 years. She was named the 2016-2017 Bartlesville Public Schools Teacher of the Year. Green was raised in Checotah, OK. She attended Northeastern State University and graduated in 1998 with hon- ors receiving a bachelors degree in music education.
Green is an active member of the Oklahoma Music Educa- tors Association/National Association for Music Education and currently serves as the All-State Mixed Chorus Chair for 2021-2022. Green has also served as the Northeast Quad All-State Audition Chair prior to joining the committee. Green is a member of the Oklahoma Choral Directors Association and is the 2016 past-president of the Northeast Choir Directors Association. She has been a guest clinician for vari- ous festival concerts in the region. From 2005-2013, Green served as the Vocal Director/Arranger for the NSU River City Players Stars of the Summer Series in Tahlequah, OK.
Green served for 7 years as the worship pianist for East Cross United Methodist Church before stepping into the Director of Traditional Worship/Choir Director four years ago. She has been married to her husband Brad for 20 years and has two sons, Colton and Cooper.
Orchestra VP - Samantha Sy
Samantha Sy is a native of Oklahoma City and a graduate of Oklahoma City Public Schools. She received her bachelor's degree in instrumental music education from Oklahoma City University in 2011 and received her master's in Instructional Leadership and Academic Curriculum from the University of Oklahoma in 2020.
Between 2011 and 2020, Sy taught orchestra at both Taft Middle School and Northwest Classen High School. She has taught orchestra at Northwest Classen High School since 2020. Since 2013, Sy has also served as the district team leader for OKCPS orchestra teachers. She works at El Sistema Oklahoma as the coordinator of instrumental teacher support. Sy has been the North Central Honor Orchestra president since 2014, and has also served as the 2017 Oklahoma Music Educators Association All-State Orchestra Chair. In addition to being employed with Oklahoma City Public Schools and El Sistema Oklahoma, Sy is also an instructor of an undergraduate course at the University of Oklahoma.
When not working, she enjoys spending time with her best friend, Leo the husky!
Higher Ed VP - Charlene Dell
Dr. Charlene Dell is in her twentieth year as an Associate Professor at the University of Oklahoma. She has presented clinics at the NAfME and ASTA National Conferences, as well as the state conferences of Oklahoma, Texas, South Carolina, and New York. Currently, Dell serves as the Editor of the American String Teacher journal. In addition to her work at OU, Dell has served as the conductor of the Oklahoma Youth Philharmonic for the past 5 years. Her sixteen years as an orchestra director in the public schools of upstate New York and South Carolina prepared her well for working with OYP.
Dell has served as the advisor to the nationally recognized OU CNAFME chapter since 2015. The OU chapter provides its members with service-learning experiences such as Day in the Life of a College Music Student, 7th Grade Honor Band, and the OSSAA band and choir spring contests.
Dell is active as a researcher and clinician at both state and national levels. She has served as the treasurer for the NY-ASTA and President of OK-ASTA. She has published in the Teaching Music through Orchestra book series, the American String Teacher journal, and Music Educators Journal, as well as other national and international research journals. Her research areas are string intonation, arts integration and whole school reform, music learning theory, and orchestral recruitment and retention.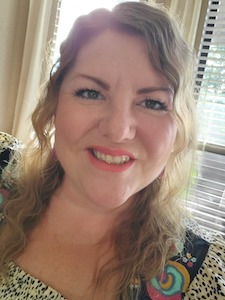 Choral VP - Lacy West
Lacy West is in her 15th year of teaching, with classroom experience at the elementary, middle school, and high school levels. Her teaching career includes 8 years in a small rural school, 3 years in England, and a year in Texas. She is currently in her third year as Director of Vocal Music at Eisenhower High School in Lawton, and this year will be- gin an elementary school choral outreach program.
West has most recently served the OkMEA choral community as the 2021 All-State Mixed Chorus Chair, having been on the chorus committee from 2016-2021. She is also the OkMEA Quad Co-Chair for the Southwest region. West also serves as the Secretary and Treasurer of the South- west Oklahoma All Region Honor Choirs organization.
West is a member of the Lawton Philharmonic Chorale, Bel- la Voce Women's Chorus, the Lawton/Cameron Community Choir, and is the Assistant Director of the Lawton Harmony Chorus, a chapter of Sweet Adelines International. She is currently serving on the committee for the Lawton Arts for All Gala. West co-founded "Musicality," a non-profit pop music chorus for adults, which performed at local venues prior to the pandemic. She has also previously served as a vocal coach and musical director at Inspiration Point Youth Music Camps, in Eureka Springs, Arkansas, and as Director for the Teen Theatre workshop for Duncan Little Theatre.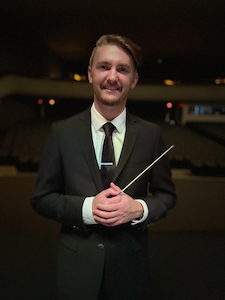 Orchestra VP - Waddell
Colin Waddell has served as the head orchestra director at Putnam City High School in Oklahoma City since 2013. He has held several leadership positions locally and statewide, including OkMEA All-State Orchestra Chair (2018-2019), PCHS Performing Arts Department Chair (2019-2021), and North Central Honor Orchestra Chair (2014-2018).
In 2019, the Putnam City Orchestras had the opportunity to travel to London, England, to perform a gala concert at Cadogan Hall. Waddell has also taken his students to perform in Texas, Missouri, and Colorado. The Putnam City High School Symphony Orchestra has been selected as an honor group for the 2022 OkMEA Winter Conference.
Waddell is an accomplished violist and bassist, and has performed professionally in classical settings as well as in modern worship venues across the Unites States. In his spare time, he likes traveling, reading books, hiking, woodworking, and playing Settlers of Catan with the company of good friends.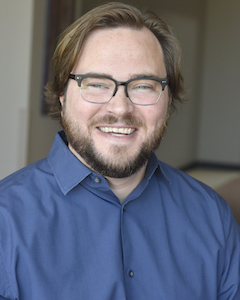 Higher Ed VP - Ryan Meeks
Ryan Meeks is the Coordinator of Instrumental Music Education and co-sponsor of the CNAfME student organization at the University of Central Oklahoma. As a passionate music teacher educator, he hopes to help prepare quality music educators who will change the lives of their students and communities. Prior to joining the faculty at the University of Central Oklahoma, he held positions at the University of Southern Maine and Oklahoma Baptist University, where he taught undergraduate and graduate courses in music education and worked closely with the campus CNAfME organizations. A native Oklahoman, Meeks began his career teaching in Oklahoma public schools from 2005-2010. Maintaining an active agenda in music education research, he has presented practitioner workshops and research presentations at international, national, and regional conferences across the United States and in the United Kingdom. His scholarly interests include music teacher mentoring, instrumental music methods and rehearsal techniques, music teacher expertise, and pre-service music teacher preparation. Meeks looks forward to the continued growth of a dynamic community of Oklahoma collegiate music educators.