OkMEA Election Information
OkMEA elections will open on September 5th. You will receive an email with an individualized voting link from Election Buddy. Be sure to check your junk/spam folders. This system ensures that only active, life, introductory, and retired members vote and that they only vote one time. Reminders will be sent throughout the elections process. Elections will close on October 1 at 11:59pm.
To view the candidates biographical information, click the plus button next to their name below.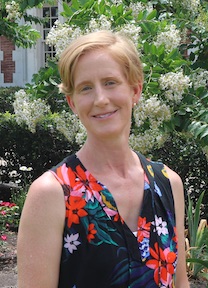 President Elect - Sarah Chan
Sarah Chan graduated with a bachelor's in instrumental music education from the University of Oklahoma in May 2001. She received a master's in education administration from the University of Central Oklahoma in 2008. During her nineteen-year career she has worked for Oklahoma City Public Schools, Mid-Del Public Schools, Putnam City Public Schools, owned/operated a private studio, and is currently teaching in Norman Public Schools at Ivrving Middle School and Washington Elementary. While employed with OKCPS, she was orchestra department chair, fine arts team leader, and Taft Middle School 2008-2009 Teacher of the Year. Chan was recognized as the 2020-2021 Irving Teacher of the Year, and the Irving Middle School 8th Grade Orchestra was selected to be an honor group at the 2018 OkMEA Winter Conference. In addition to her teaching duties, she facilitates a partnership between the Irving Middle School Orchestra and the OU School of Music that provides a learning lab for music education majors. Chan is an active member of ASTA, and is currently serving a two-year term as the OkASTA Treasurer. Chan is a member of NAfME/OkMEA and the Oklahoma Music Adjudicators Association. She served as the 2017 OkMEA All-State Orchestra Chair and the 2019-2022 OkMEA Orchestra Vice President. Outside of teaching, Chan enjoys spending time with family, hiking, gardening, swimming, and traveling. She resides in her hometown of Norman with her husband and son.
OkMEA Vision Statement
If I am elected to be the next President of the Oklahoma Music Educators Association, I will commit to uphold our most valued traditions and purpose, find opportunities to improve the governance of the Association, and expand programs that benefit our membership. OkMEA's purpose is the "promotion and advancement of music education in the State of Oklahoma" As an Association we meet this goal through our advocacy efforts, providing professional development opportunities, and promoting excellence through our student All-State ensembles. I do believe that we can do more for music educators and students in our state, and the following is my vision for how we can advance our purpose as an organization.
The Association will be going through a transition next year when Executive Director Jerry Huffer retires. I am thankful for Jerry's 50 years of service to OkMEA. During my previous OkMEA Board service, I assisted with the revision of our Bylaws. In our Bylaws, the Board is designated as the government while the employees are to oversee the administration of the organization. If elected President, I want to maintain this healthy balance of power between the Board and the employees while continuing to strive for transparency with the membership of the organization. Transparency builds trust and our membership has to have confidence in the Association's ability to be a good steward.
I would also like to grow the sponsorship program by introducing a scholarship program for ensembles at Title 1 schools that are selected to be honor groups at the Winter Conference. With these funds, more schools might be able to participate as an honor group. I also want to start a scholarship fund for OkMEA members to travel to the NAfME National Conference giving them an opportunity to represent Oklahoma at a national level. A third addition I would propose would be the creation of an Intercollegiate Chamber Orchestra to complement the Intercollegiate Band and Intercollegiate Choir that are already established.
Advocacy is another area that I believe we can increase our efforts. We need to strengthen our connection with our elected officials both at the state and national level. NAfME has many resources that we are currently underutilizing. Our voices need to be heard because our work enriches our students, our schools and our communities.
I believe that my vision for OkMEA will build a stronger organization that is better able to meet the needs of the membership. I believe our work is important because we are stronger together than we are alone. As your OkMEA President, I would work to promote our Association's purpose and continue to build an organization in which everyone feels valued, supported and able to pursue their passion. I believe that my education and experience have prepared me to step into this role. It would be my honor to serve OkMEA in this capacity.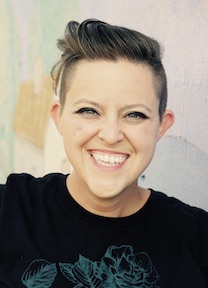 Elementary VP - Tara Light
Tara Light is entering her fifteenth year of teaching music for Norman Public Schools where she is a proud Adams Elementary All-Star! She earned her MME and Kodály certification at the University of Oklahoma. She also has an open-door policy when it comes to sharing her classroom with student teachers and colleagues. Light serves as a Choir Director and Kid's Choir Director at Victory Family Church, has won an Emmy for songwriting, and sings in a family a cappella group called Wild and Sweet with her husband and siblings. She spends each summer serving as an evaluator for the IPHC National Fine Arts Festival where she also directs the Collaborative youth choir. When Light isn't teaching or singing along with her favorite musicians, she can be found outside swimming, biking, running, hiking, kayaking, and playing with her weenie dogs!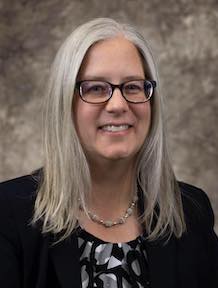 Band VP - Melissa Marks
Melissa Marks is currently in her twenty-eighth year as a music educator. She is the Head Band Director at Carl Albert High School. She received a Bachelor of Music Education degree from Central Michigan University and a Master of Music degree from Northwestern University. Prior to coming to Carl Albert High School, Marks taught in Michigan (Oxford Community Schools, Morenci Area Schools, and Onsted Community Schools) and Oklahoma (Crooked Oak Public Schools and Oakdale School) where her bands consistently earned superior ratings. She has served as a solo and ensemble adjudicator, and she has been active at both the district and state level of the Michigan School Band and Orchestra Association (MSBOA). She is a member of the National Association for Music Education, the Oklahoma Music Educators Association, the Central Oklahoma Band Directors Association, the Oklahoma Bandmasters Association, and the American School Band Directors Association. Marks was the 2019 MSBOA District 8 Teacher of the Year, the 2020 runner-up for the MSBOA State Band Director of the Year, and she was recognized in 2021 as a Michiana Outstanding Music Educator. Marks lives in Moore with her husband, Marty, and her three children, Paul, Bellamy, and Isaac.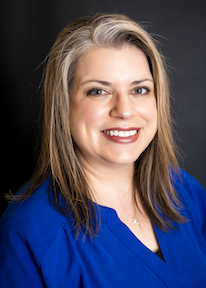 President Elect - Amber Mash
Amber Mash is a 24-year veteran of teaching middle school and high school choir in Oklahoma. Currently, she is in her fifth year of teaching MS and HS vocal music at Crossings Christian School. Prior to Crossings, she taught in Union City, Yukon, Mid-Del, Western Heights, and Putnam City school districts. She was named the Western Oaks Middle School Teacher of the Year for 2018-19. In addition to teaching vocal music, Mash has served in other roles at school sites, including mentor teacher, team leader for electives, a member of the Principal's Guiding Coalition, and the building TLE leader.
Previous OkMEA service includes Choral Vice President and four years on the All-State Chorus committee, spending two of those as the chair of the All-State Mixed Chorus. She has also been a presenter of interest sessions at the OkMEA Fall Conference and a member of committees related to the updating of OkMEA bylaws and regulations for the Choral division. Other past leadership experience includes Vice President and President of the Central Oklahoma Choral Directors Association. She is an active member of OMAA, COCDA, OCDA, ACDA, OkMEA and NAfME.
Mash holds a Bachelor of Music Education degree from Southern Nazarene University. While at SNU, she met her husband, Barret. Together, they have two wonderful children, Jacob and Tyler. She is an active member of Calvary Church of the Nazarene in Bethany, participating in worship music, children and youth ministries, and serving on the church board. Mash has been a clinician for Edmond, Muskogee, Oklahoma City, and Hennessey choral events. She is also an experienced adjudicator. During the summer months, she can be found teaching audition music at choral camps, enjoying popcorn at the movie theater, and hanging out by the pool.
OkMEA Vision Statement
OkMEA is essential for the continued success of teachers and students in our state. The mentoring, practical solutions, and opportunities provided through our organization have been invaluable throughout my career.  My vision is to help others to benefit as I have.  
To achieve those ends, we should continue and build upon current communication practices, utilizing the tools of emails and social media, to get the word out about mentoring and workshop opportunities.   Expanding our outreach efforts in recruitment, support, and retention of new teachers is paramount.  Quality and relevant options at conferences for both current and future teachers are necessary for providing another avenue of support and rejuvenation.  At the same time, we want to continue to serve our students by maintaining the quality CTSWS and All-State experiences for elementary and secondary schools.   
With the retirement of Jerry Huffer, we know there will be much to learn and changes to navigate.  Strengthening the core of OkMEA will help us move successfully through challenges, transitions, and into the future.  If I can be of service in working toward these goals, it would be my honor to serve.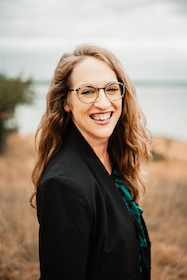 Elementary VP - Karissa Parkhurst
Karissa Parkhurst graduated from Oklahoma Christian University with her BME in 2011. She immediately started work as a middle school choir director for Broken Arrow Public Schools where she experienced success in growing a choral program. After four and a half years, motherhood and a desire to be closer to family brought her to Northern Hills Elementary in Edmond Public Schools. It is here that Parkhurst has found a renewed love for fostering a music classroom that encourages everyone who enters to journey toward health and wholeness.
Parkhurst is passionate about bringing a sense of balance to the music teaching profession, as can be witnessed when she leads professional development workshops or serves as a guest conductor. She believes music educators deserve to have full, thriving lives in addition to their work in education, and she is on a mission to normalize true self-care in a time when more and more teachers are experiencing burnout. Parkhurst is in the process of getting her 200-hour Yoga Certification and Wellness Facilitator Training through Breathe for Change. She has also completed her Kodály Level I training and was named Northern Hills Teacher of the Year for the 2020-2021 school year. Parkhurst currently lives in Edmond with her husband and two children. When she's not teaching, doing yoga, or talking about self-care, she loves gardening, crafting, and playing on her Switch.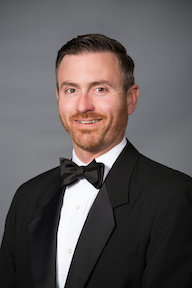 Band VP - Shawn O'Kelley
Shawn O'Kelley started his teaching career in Greenbrier, Arkansas, in 2001. Since 2004, he has been teaching in Owasso. At Owasso, he has taught sixth grade flute, clarinet, and saxophone classes, eighth grade band, Owasso High School Symphonic Band I, Symphonic Band II, Owasso Saxophone Ensemble, and assisted with the Pride of Owasso marching band. In 2007, O'Kelley was the recipient of the Phi Beta Mu Young Bandmaster Award for Oklahoma, and he conducted the Owasso Eighth Grade Symphonic Band at the OkMEA annual convention. In 2018, he was recognized as an OkMEA Exemplary Teacher. Under his direction, Owasso Saxophone Ensemble members have performed at North American Saxophone Alliance biennial conventions in 2016, 2018, and 2020, and regional conventions in 2017, 2019, and 2021. O'Kelley also enjoys teaching an active schedule of private saxophone lessons, and his students frequently earn positions in all region and all state bands. His professional affiliations include Oklahoma Music Educators Association, where he has served as All-State Chair, Phi Beta Mu, North American Saxophone Alliance, and faculty membership at the Great Plains Saxophone Workshop. O'Kelley is a 2001 graduate of the University of Arkansas and a native of Farmington, Arkansas.