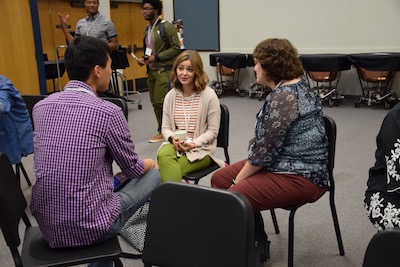 BTW (2018)
Mentees discussing in groups during Dr. Berg's opening session.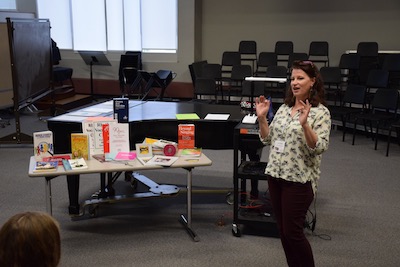 BTW (2018)
Lynn Herbel sharing all of her favorite resources with the choral music teachers!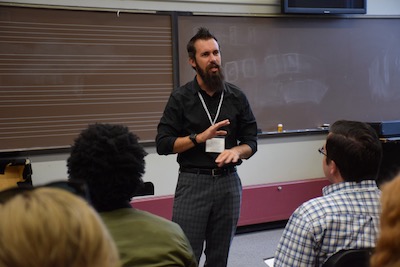 BTW (2018)
Byron Church talking with the band mentees in attendance.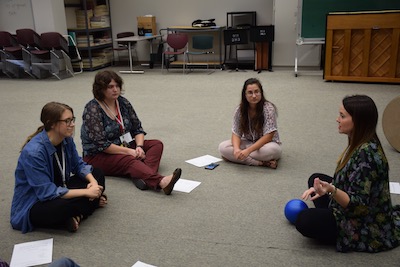 BTW (2018)
Elementary mentees discussing how to meet the needs of students with special needs with Angela Pennello.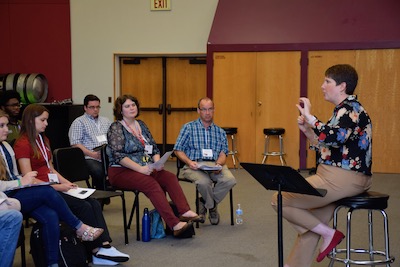 BTW (2018)
Robyn Hilger giving tips and tricks to grant writing and funding for the music classroom.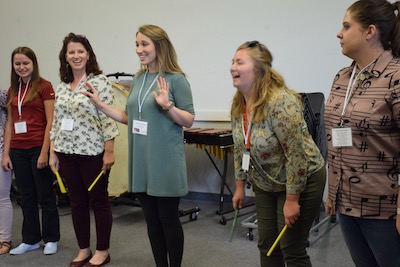 BTW (2018)
Mentors and mentees laughing with Ashlynn Dickinson as she shared success stories of the OkMEA Mentorship Program.
OkMEA Beginning Teacher Workshop – September 19, 2020
The OkMEA Beginning Teacher Workshop (BTW) is designed to foster a network of early-career music educators across Oklahoma. Each year, OkMEA will host a BTW in the first weeks of the academic year. We invite clinicians from across the state and beyond to lead active and invigorating sessions on mentoring, area-specific music instruction, and social gatherings. The BTW affords novice teachers opportunities to learn, grow, and build professional relationships with their colleagues. Additionally, the BTW includes sessions for veteran teachers who serve as mentors in our One-to-One program. These clinics provide support and development of effective mentoring skills, while providing a space for mentors to share ideas. Please join us for this "kick-off" event to both your school year and your career as a music educator!
Registration
Registration: $15
Collegiate Seniors, First Year Teachers,
and Veteran Teachers are welcome!
Link to Workshop Registration
*Registration closes September 16
Location
All sessions will be on Zoom this year!
A link will be emailed to you an hour before
the event begins on September 19!
Schedule and Lunch Presenters
Schedule of Events
10:00am – Welcome
10:15am – Breakout Brainstorming by Area
10:30am – Breakout Session 1
Elementary – Katie Wonderly
Choral – Matt Johnson
Instrumental – Genevieve Craig & Jenn Kauffman
11:30am – Break
11:45am – Lunch and Lightning Sessions
Ryan Meeks
Elizabeth Schultz
12:45pm – Breakout Session 2
Elementary – Emily Richardson
Choral – Stephania Abell
Instrumental – Rayél Lindsey
1:45pm – Closing Full Session
2:00pm – End
Ryan Meeks
Lunch Presenter
Session Description
More Than Survival: Changing the Narrative for Early-Career Music Teachers
You have your degree and you've landed your first teaching job. Now you should have all of the answers and be the best music teacher in the world, with no help from anyone…right? Maybe there is another way. This session is designed to provide practical strategies for navigating everyday challenges, while helping early- career (1-4 years) and pre-service teachers view themselves at the start of a lifetime of learning and growth, rather than at a stagnate stage of survival. While teaching music may present many challenges, we can learn to navigate everyday issues (both on-site and from a distance) while also developing as professional educators.
Elizabeth Schultz
Lunch Presenter
Session Description
Small Inclusive Changes With a BIG Impact
As you begin your first year teaching, you likely still have questions about how to effectively include students with special needs. This session will provide you with an overview of special education terminology, strategies for teaching these students, and small changes you can make to your instruction that will help all students in your classroom(s) be successful! Whether you are teaching exclusively online, partially online, or in person, having some research-based strategies for success can be a guiding light for designing and teaching your curriculum.
Katie Wonderly
Elementary Presenter
Session Description
Collaborate, Educate, Advocate: Embracing Social Media In and Out of the Music Room
We live in a world saturated by social media. It has become our go-to source for news, memes, recipes, and trends…but what if it could be so much more? For years now, music teachers have been using social media to highlight their experiences in and out of the classroom. They use these platforms to collaborate with fellow educators, demonstrate classroom activities, advocate for their programs, and motivate others to do the same. In this session, I will be walking you through simple steps you can take to step up your social media presence; spreading the word about the innovative things already happening in your classroom, educating students outside of the classroom, and building a community of people around the world to celebrate, support, and inspire you through your teaching journey.
Emily Richardson
Elementary Presenter
Session Description
Structuring Lessons for Success (and Sanity!)
One of the most rewarding moments as a teacher is seeing a lesson plan we've spent hours crafting come to life when our students walk in the door.  We have also all had days where our beautifully written lesson falls flat.  Let's take a deeper look at how we can best structure our plans to challenge our kids, build their confidence, respond to their energy, and make their experience in music class meaningful and fun. The right lesson structure will boost student success and save teacher sanity both in the classroom and virtual classroom!
Matt Johnson
Choral Presenter
Session Description
What else is important? Teaching in a new era!
A dive into everything else that can be taught, when singing can not be. How to utilize free online resources and where to find them. Also, when kids want to sing how to best utilize their time and yours to be successful.
Stephania Abell
Choral Presenter
Session Description
How to Teach Virtual Choir When You're Not Eric Whitacre
Need some things to do for your choirs when they can't all be there in person? Or how about some classroom activities that will help you give one-on-one feedback to your choir of 50? This session will help you do that, and more! Tried and true digital activities from someone who prefers non-virtual, but has lived it this past year. If I can do it, you can too!
Genevieve Craig
Instrumental Presenter
Session Description
Social Capital: The Importance of Building, Bonding, and Maintaining Healthy Relationships
Social capital is defined as the effective functioning of social groups through interpersonal relationships. How do we as new teachers create and build healthy relationships with students, parents, faculty, and administration in both normal and COVID-19 settings? How do these relationships lay the foundation for both teacher and program success? This session will explore establishing social capital to help you shape an organization with a shared identity, mutual understanding, and core values built on trust, cooperation, and reciprocity.
Rayél Lindsey
Instrumental Presenter
Session Description
Nothing to Fear, Experienced Directors are Near! 
During this session we will look into a few select moments of my first year teaching, for better and worse, and work together to help you have the best teaching experience possible. This will include being the Lone Director for the Middle School Band program, teaching beginning mixed instrument class while on a block schedule, and navigating emergency Virtual Learning carried into the next school year.
Jenn Kauffman
Instrumental Presenter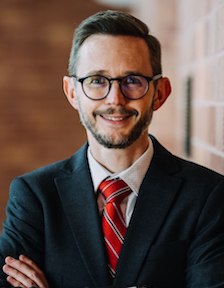 Chris Baumgartner, Mentorship Chair
University of Oklahoma, School of Music
500 West Boyd Street
Norman, Oklahoma 73019
(419) 410-0162
[email protected]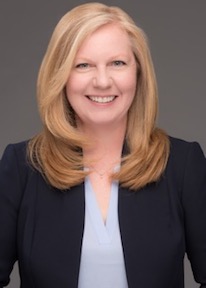 Christine Mueller, Mentorship Chair
1707 Westminster Place
Oklahoma City, OK 73120
(405) 819-0505
*Texts are accepted
[email protected]