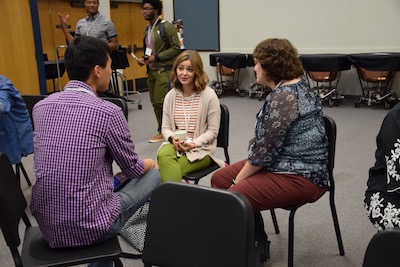 BTW (2018)
Mentees discussing in groups during Dr. Berg's opening session.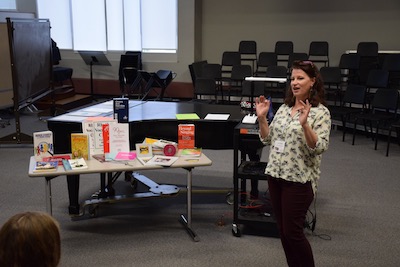 BTW (2018)
Lynn Herbel sharing all of her favorite resources with the choral music teachers!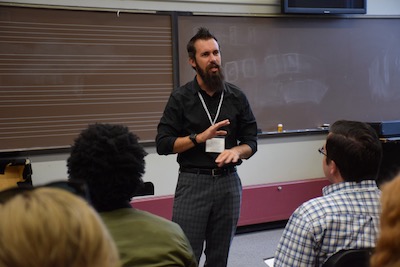 BTW (2018)
Byron Church talking with the band mentees in attendance.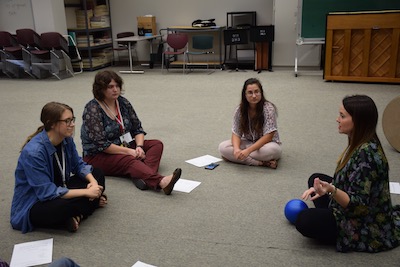 BTW (2018)
Elementary mentees discussing how to meet the needs of students with special needs with Angela Pennello.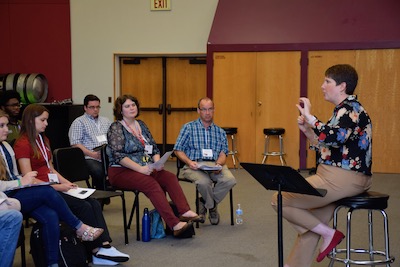 BTW (2018)
Robyn Hilger giving tips and tricks to grant writing and funding for the music classroom.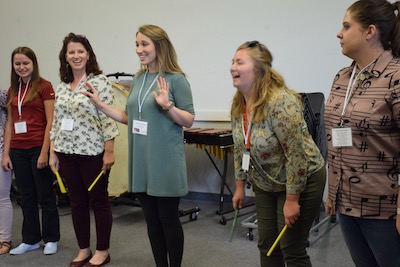 BTW (2018)
Mentors and mentees laughing with Ashlynn Dickinson as she shared success stories of the OkMEA Mentorship Program.
OkMEA Beginning Teacher Workshop – August 27, 2022
The OkMEA Beginning Teacher Workshop (BTW) is designed to foster a network of early-career music educators across Oklahoma. Each year, OkMEA will host a BTW in the first weeks of the academic year. We invite clinicians from across the state and beyond to lead active and invigorating sessions on mentoring, area-specific music instruction, and social gatherings. The BTW affords novice teachers opportunities to learn, grow, and build professional relationships with their colleagues. Additionally, the BTW includes sessions for veteran teachers who serve as mentors in our One-to-One program. These clinics provide support and development of effective mentoring skills, while providing a space for mentors to share ideas. Please join us for this "kick-off" event to both your school year and your career as a music educator!
Registration
Registration: $20
Collegiate Seniors, First Year Teachers,
and Veteran Teachers are welcome!
Link to Workshop Registration
*Registration closes August 25
Location
Oklahoma City University
Wanda L. Bass School of Music
2501 N. Blackwelder
Directions
The OCU campus lies on the north side of NW 23rd, between Blackwelder and Penn, in the central part of Oklahoma City.
From Penn
– Go north on Penn and turn right onto 23rd
– Turn left onto McKinley
– Turn left onto 25th (Bass is straight ahead)
From Classen
– Go north on Classen and turn left onto 25th
Parking
We are allowed to park anywhere on campus not marked "reserved." There is a parking lot at the corner of NW 25th and Blackwelder, and a larger one at the corner of NW 26th and Blackwelder. OCU classes are in session which makes parking difficult! Come early!
If you get a ticket while on campus, please contact Jerry Huffer ([email protected])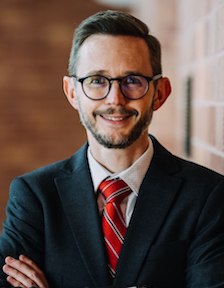 Chris Baumgartner, Mentorship Chair
University of Oklahoma, School of Music
500 West Boyd Street
Norman, Oklahoma 73019
(419) 410-0162
[email protected]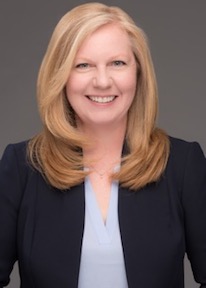 Christine Mueller, Mentorship Chair
1707 Westminster Place
Oklahoma City, OK 73120
(405) 819-0505
*Texts are accepted
[email protected]