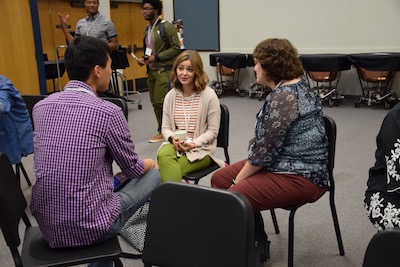 BTW (2018)
Mentees discussing in groups during Dr. Berg's opening session.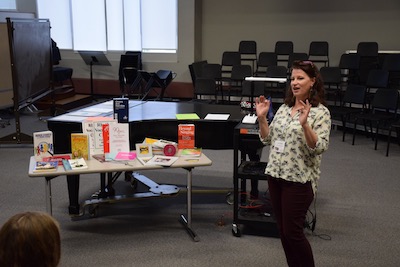 BTW (2018)
Lynn Herbel sharing all of her favorite resources with the choral music teachers!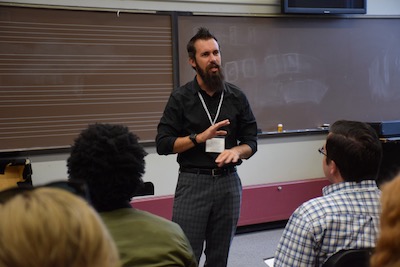 BTW (2018)
Byron Church talking with the band mentees in attendance.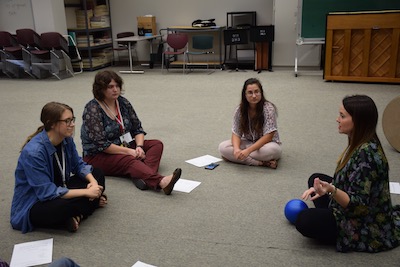 BTW (2018)
Elementary mentees discussing how to meet the needs of students with special needs with Angela Pennello.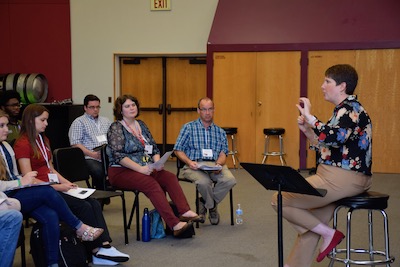 BTW (2018)
Robyn Hilger giving tips and tricks to grant writing and funding for the music classroom.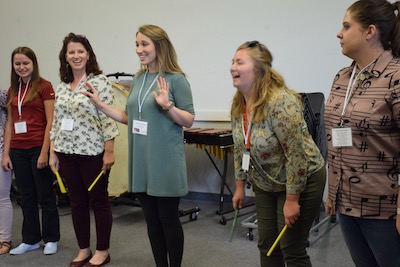 BTW (2018)
Mentors and mentees laughing with Ashlynn Dickinson as she shared success stories of the OkMEA Mentorship Program.
OkMEA Beginning Teacher Workshop – October 16 and 17, 2019
The OkMEA Beginning Teacher Workshop (BTW) is designed to foster a network of early-career music educators across Oklahoma. Each year, OkMEA will host a BTW in the first weeks of the academic year. We invite clinicians from across the state and beyond to lead active and invigorating sessions on mentoring, area-specific music instruction, and social gatherings. The BTW affords novice teachers opportunities to learn, grow, and build professional relationships with their colleagues. Additionally, the BTW includes sessions for veteran teachers who serve as mentors in our One-to-One program. These clinics provide support and development of effective mentoring skills, while providing a space for mentors to share ideas. Please join us for this "kick-off" event to both your school year and your career as a music educator!
Registration
Beginning Teachers: $20
Includes all-day events, lunch and social hour
Veteran/Mentor Teachers: $10
Includes half-day events, lunch and social hour
Those attending the Beginning Teacher Workshop may attend the OkMEA Fall Conference on Thursday, October 17 for free!
Link to Workshop Registration
*Registration closes October 14
Location
Oklahoma City University
Wanda L Bass School of Music
2501 N Blackwelder
We are allowed to park anywhere on campus not marked "reserved." There is a parking lot at the corner of NW 25th and Blackwelder, and a larger one at the corner of NW 26th and Blackwelder. OCU classes are in session which makes parking difficult! Come early!
If you get a ticket while on campus, please contact Jerry Huffer ([email protected])
2019 Guest Clinician
Dr. Erin Zaffini
Mentor Program Coordinator, NHMEA
Zaffini's Bio
Dr. Erin Zaffini (DMA, Boston University) is an adjunct music and music education professor at Keene State College, where she supervises student teachers, and teaches undergraduate music courses in general music education, music curriculum and assessment, and adaptive music. She is also a faculty member for the University of New Hampshire's Professional Development Department, where she teaches in-service teachers how to integrate music and movement into their classroom, as well as teaches Early Childhood Music and Movement. In addition, she currently teaches K-5 general, vocal and instrumental music at Stoddard and Washington Elementary Schools in New Hampshire. She has taught preK-8 general music, choral music, instrumental music, hand bell ensemble, and musical theatre. She is an active clinician around the country, serves as the Eastern Division Representative for NAfME's General Music Council, is the Collegiate Coordinator, General Music Chair and Mentor Program Coordinator for the New Hampshire Music Educators Association, and sits on the Advisory Committee for the Music Educators Journal. Dr. Zaffini is the project leader for instituting music educator mentor training within the Society for Music Teacher Education and the National Association for Music Education. She is the recipient of the Keene State College Excellence in Teaching and Excellence in Performance Awards. She has recently published articles in General Music Today, Music Educators Journal and Update: Applications of Research in Music Education.
Oklahoma
Subject Area
Specialists
Melissa Baughman
Choral Presenter
Biography
Melissa Baughman is Assistant Professor of Choral/Vocal Music Education at the University of Oklahoma where she supervises preservice teachers instructs courses in conducting, choral methods, and vocal pedagogy. She enjoys serving as a choral clinician, and adjudicator, and coordinating music education outreach events. Prior to joining the faculty at OU, Dr. Baughman instructed music courses at Middle Tennessee State University. Dr. Baughman earned her PhD in music education with an emphasis on vocal pedagogy and choral conducting and a Master of Music in vocal performance from the University of Missouri. At MU, she served as a graduate assistant in choral and vocal music, and was the first coordinator of the Higday Mozart Outreach concert series. Dr. Baughman also holds undergraduate and graduate degrees in music and education (magna cum laude) from Bowling Green State University in Ohio. 
Moriah Holmes
Elementary Presenter
Biography
Moriah Holmes is a passionate and fun-loving elementary music teacher who has been spreading the love and joy of music for the last 5 years. Her creative and child-centered music classroom is driven by her National Kodály Certification. In addition to serving on multiple school committees and maintaining membership in OkMEA, OAKE, and OEA, Moriah Holmes served as Region O Co-Chair and Chair for the Circle the State with Song Music Festival (2016-2018). She received her Bachelor of Music Education from Oklahoma Christian University (2014) and National Kodály Certification at the University of Oklahoma (2018). She strives to promote that music is for everyone and provide an inclusive and safe learning environment for all students.
Shawn O'Kelley
Instrumental Presenter
Biography
Shawn O'Kelley started his teaching career in Greenbrier, Arkansas, in 2001. Since 2004, he has been teaching in Owasso, Oklahoma. At Owasso, he teaches sixth grade flute and saxophone classes, eighth grade band, Owasso High School Symphonic Band I, the Owasso Saxophone Ensemble, and assists with the Pride of Owasso marching band. In 2007, Mr. O'Kelley was the recipient of the Phi Beta Mu Young Bandmaster Award for Oklahoma, and conducted the Owasso Eighth Grade Symphonic Band at the Oklahoma Music Educators Association annual convention. In 2018, he was recognized with an Exemplary Teacher Award from the Oklahoma Music Educators Association. Under his direction, Owasso Saxophone Ensemble members have performed at North American Saxophone Alliance biennial conventions in 2016, 2018, and regional conventions in 2017 and 2019. Mr. O'Kelley also enjoys teaching an active schedule of private saxophone lessons, and his students frequently earn positions in all region and all state bands. His professional affiliations include Oklahoma Music Educators Association, where he has served as All State Chair, Phi Beta Mu, North American Saxophone Alliance, and faculty membership at the Great Plains Saxophone Workshop. Mr. O'Kelley is a 2001 graduate of the University of Arkansas and a native of Farmington, Arkansas.
Wednesday, October 16
5:00pm – Registration
5:30pm – Dinner and Keynote Address
Welcome: Jeanine Gully, OkMEA President
Address: Dr. Erin Zaffini
Dinner – catered by Back Door Barbeque
6:20pm – Break
6:30pm – Session 1: Breakout by Major Area
Elementary
Moriah Holmes, Apollo OKC
Instrumental
Shawn O'Kelley, Owasso
Choral
Melissa Baughman, OU MUED
7:20pm – Break
7:30pm – Session 2: Breakout by Secondary Area OR General Session
Elementary
Moriah Holmes, Apollo OKC
Instrumental
Shawn O'Kelley, Owasso
Choral
Melissa Baughman, OU MUED
General Mentee Session
Erin Zaffini
8:20pm – Break
8:30pm – Wrap Up Session
Closing Remarks: Chris Baumgartner and Christine Mueller
9:00-10:30pm – Social Hour (Vanessa House Beer Co.)
Hors d'oeuvres sponsored by Edmond Music
Thursday, October 17
8:00am – Registration for OkMEA Fall Conference
Admission FREE with BTW registration
Coffee and donuts provided
9:00am – General Session
OU Percussion Orchestra concert
9:30am – Break
9:45am – Fall Conference Session 1
Attend a division session of your choosing
10:45am – Break
11:00am – Fall Conference Session 2
Attend a division session of your choosing
12:00pm – Break
12:15pm – Join Luncheon with COkMEA
Dr. Erin Zaffini
Lunch sponsored by Palen Music
Mentors welcome
1:30pm – BTW Concludes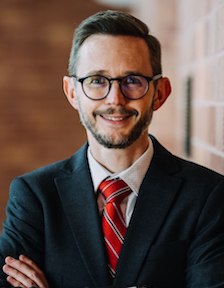 Chris Baumgartner, Mentorship Chair
University of Oklahoma, School of Music
500 West Boyd Street
Norman, Oklahoma 73019
(419) 410-0162
[email protected]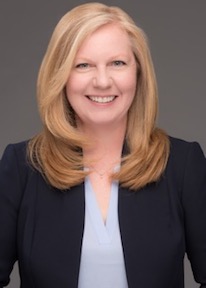 Christine Mueller, Mentorship Chair
7713 Stone Valley Circle
Edmond, OK 73034
(405) 819-0505
*Texts are accepted
[email protected]